With the pandemic bringing everything to a halt, one of the sectors that did not take a break was the medical professionals. Day in and day out the surge of patients was overwhelming yet they did not stop taking care of the patients. The job stress brought about quite the burnout among these medical professionals. But not only medical professionals, other administrative and managerial individuals too among the medical organizations too faced the same burnout. Medical billing is a stressful job so it is only normal to feel exhausted and low motivation to do anything.
What Is Burnout in The Medical Field?
In the year 2019, the World Health Organization added the term "burnout" in ICD (International Classification of Diseases). According to the International Classification of Diseases, burnout refers to the syndrome that has been conceptualized as a result of chronic stress from the workplace. There are three distinct dimensions: feeling cynical about their job, feeling unaccomplished or ineffective, feeling exhausted and depleted of energy. 
ICD-11 has four times the number of codes than ICD-10, therefore, indicating that this particular condition has become more prominent than ever in the past few years. 
However, the fact is that when you are the owner of a medical billing company, the situation will not have to be any different. There are several ways that can help in the reduction of burnout among your medical billing staff. 
There are several reasons that could lead to burnout medical billers and coders or just any other medical professionals for that matter.
Doubt about competency

Feeling undervalued

Peer drama and monotonous routine

Low accomplishment

Feeling unempowered



There are many consequences that could result from burnout. These include and not limited to, increased absenteeism, increased errors, chronic stress, reduction in work productivity, disconnection from the personal life, being physically ill, emotional fragility, mental exhaustion and many more. Hiring new medical billing services can cost almost a year's salary therefore it is important to keep your existing medical billing staff happy.

How To Avoid Medical Billing Burnout?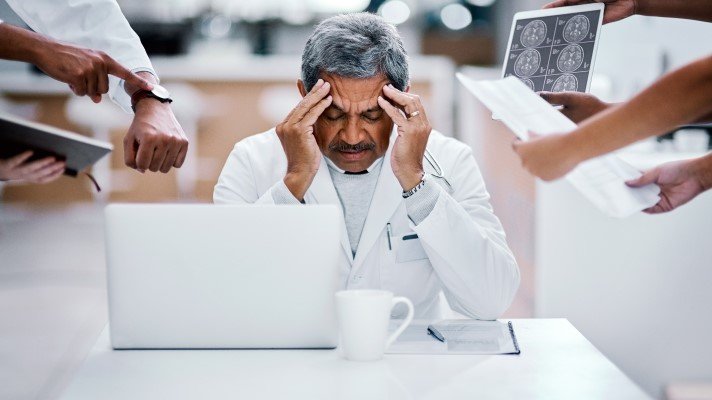 In order to get the best productivity from your medical billers and coders, it is important to keep them happy. 
Appreciate them: Appreciating your medical staff is crucial. Interpersonal touch ups such as giving them shoutouts, small gifts, support callouts, and applause will make them feel that the effort they are putting in is not going unnoticed. Moreover, it will motivate them to work further and put more effort. If you feel that your billers might be feeling burnt out just ask them why their productivity has not been up to the mark and if their answer is that they don't know then you will understand that they are experiencing burnout. Whenever it is possible encourage them, provide a quiet or a meditation room, remind them to take breaks at the workplace whenever required.

Empower them: Involve your

medical billing staff in the process of decision making, since it will help them give a good sense of empowerment. Schedule variety, allow them to work during their most productive period, maximize efficiency, enable the work from home agenda, and find a routine that helps in enhancing productivity.

Creating a safe environment: It is important to provide billing companies with a safe and secure environment where they can safely learn and gather experience which will, in turn, make them better at their job. Moreover, cover costs for the memberships along with enabling the employees to form a network on social media or in-person. If you keep reminding the medical billers and coders that they are an integral part of the entire process they will put in more effort. Including them in the bigger picture will help them gain trust and confidence in themselves. 
Therefore, in order to lessen the medical biller burnout, it is key that you as an owner of the medical organization make use of your leadership skills in order for the following things to happen:
Creating a good place for all your employees to express and talk about how they feel




Managing the drama at the workplace




Look for sandwich feedback – positive/constructive




Facilitation of relationships

Breaking down barriers
Optimizing the RCM Process
The economic impact that Covid-19 has brought about has been something that everyone is still recovering from. The mental toll along with the physical toll that it brought about was really unthinkable. In order to ensure that the future of your medical billing staff is secure, it is important to make changes that can help in having a firm financial footing. 
One of the most important ways it can be done is through the optimization of the revenue cycle. Billions of dollars get used up when the revenue cycle management (RCM) is inefficient, every single year. The CAQH index showed in 2020 with better and more efficient RCM cycles healthcare organizations could have saved up to 16.3 billion dollars. 
If you are not keeping an eye out on your staff when they are feeling burnout it can lead to an inefficient revenue cycle. Appreciating your staff can help you in the long run in earning the maximum amount of revenue. 
It is important that you understand different things that are included when it comes to the maximization of revenue. Understand the key performance indicators that are crucial components in boosting up the revenue of the organization. Evaluating all of the important processes that fall within the revenue cycle is key. 
When you look at the front office procedures, make sure that the medical staff collect all of the important information from the patient and keep the patient data updated. Staying alongside of the often-changing rules and regulations will help in creating cleaner claims. If the patients schedule an online appointment, the online portal should have all the important information that the patients are looking for. 
Moreover, the optimization of the RCM, it can help in the reduction of stress that is oftentimes the major contributor to the burnout which occurs in the dynamic healthcare industry. If you're looking for a medical billing company capable of delivering great results, Synergy HCLS can be a smart option to consider.