With the introduction of EHR (Electronic health records) into medical practice brings about a lot of challenges alongside great opportunities that can help in improving patient care and improve upon the efficiency of the organization. The implementation of EHR software not only requires time but also a lot of commitment. When it comes to organizational commitment to the implementation of EHR along with workflow redesign, your medical organization can make use of electronic health records in order to ameliorate efficiency and also save a lot of time. 
When EHR is implemented, there are a number of benefits that your organization can get. Let's take a look at what those are.
It helps in building templates for all the forms that are frequently used so that they can be filled up in a quick and easy manner.  

It reduces claim denials and saves up a lot of time. Since

EHR program

make use of automated insurance coverage along with pre-approval checks it helps out the organization have a better and seamless workflow

Securely storing and managing data becomes easier with

EHR implementation

so retrieving specific information becomes easier and quicker

EHR software

is designed in a manner that can help in storing and pre-filing the information that was used before
Time savings is a piece of cake with the implementation of EHR since it has easier chart management and specific queries related to prescriptions.
Ways EHR Can Reduce Operating Costs and Other Benefits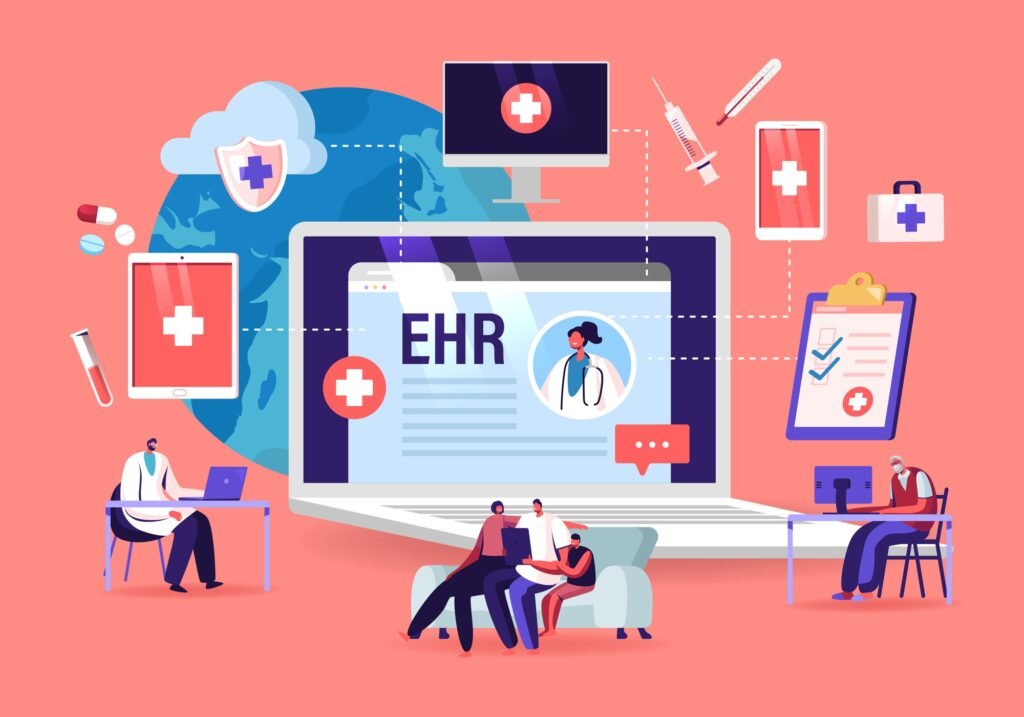 EHR software stores, gathers and manages data of the patients that includes their medical history, medications, patient demographics information, lab outcomes, allergy lists and much more. EHR helps in reducing operating costs and also provides a lot more to your organization's growth. 
Flexibility: Network, storage and cloud computing services tend to be flexible in nature besides being on-demand. Medical organizations tend to pay for the amount that is required whenever they require it without investing capital. These gains in costs can look very attractive since IT systems are in further need of systems that can be refreshed every 3 to 5 years. These apparent concerns tend to become a topic of no importance since cloud electronic health records can instantly size in a manner to shelter the evolving mass of data while significantly reducing technical accounts.





Decreases the overall costs: When it comes to the installation of a client server-based electronic health system it can turn out to be quite difficult due to the costs that are related to the setting up of the IT environment. The EHR systems that are cloud baked in nature tend to have little to no minimum upfront costs. The EHR systems that are client-based have to practice either to lease or buy the expensive hardware. Software and hardware must however be tested and observed on a regular basis, therefore, needing to hire IT staff. The cloud-based

electronic health records (EHRs)

operating expenses get covered with the aid of the EHR vendor. The requirement for maintenance or to hire IT staff is not required.





Predicting the cost: Oftentimes the cost of EHR systems that are client-based can be unforeseeable. If there is a server crash by mistake then a volume surge occurs which thereby requires additional capacity improvements, which can lead to the addition of costs in an unpredictable manner. The EHR systems that tend to be cloud-based have a steady price thereby enabling the medical practice to be more sanguine about their financial status.





Ease of implementation: The entire process of maintaining and

EHR implementation

of a client-based electronic health record system can oftentimes be quite intricate and complicated, to say the least. In order to scale up the medical practice, it can lead to costing more money. The EHR systems that are cloud-based require a practice staff that can easily access the system through the help of a secured website or any other client software that has been installed on their machine. 
How EHR Easily Saves Up on A Lot of Time?
When EHR is implemented in a medical institution it can help in saving up a lot of time. Read on to know about how it happens.
Choosing the right kind of EHR system that helps in meeting meaningful requirements. According to a survey done in 2011 by National Ambulatory Medical Care, many of the EHR systems that tend to meet the criteria of MU help physicians save up a lot of time on specific tasks.



– 75% of the physicians who have an EHR system that tends to meet all the criteria of MU agree about the fact that the medical practice tends to receive all of the results from the labs a lot faster when compared to the other 61% of the physicians who do not have their MU criteria met.





– 82% of the physicians who have an EHR system that meets the criteria of MU agree on the fact that electronic prescribing helps in saving up a lot of time compared to the other 67% who do not have their MU criteria met.





Make sure that there is proper connectivity. Medical practices that do not have proper bandwidth will find it difficult to execute and plan their decisions in a proper manner. Depending on the size of your medical practice, choose the right kind of bandwidth that will allow your practice to execute all the decisions properly.





Choosing the correct hardware. There are a number of different options that are available for hardware in the market for your desktop workstations. Depending on the style of your work along with the workflow choose the best option. Oftentimes physicians find that choosing mobile devices for your practice will lead to more efficiency for your practice. 
It might seem like a daunting task when you have to switch over to Electronic Health records but with the advances in medical billing and coding, it is the right thing to do since it will make your practice a lot more efficient. Going for the right kind of outsourced medical billing agencies can help your practice achieve the goals you have envisioned, and this is where you can totally trust on the expertise of Synergy HCLS.