The modern-day medical industry is a labyrinth, medical institutions have to deal with a number of services which include verification of insurance claims, dealing with the patient and their families, conducting audits, medical billings, and many more. It becomes quite a conundrum when one of the steps isn't done properly because that leads to the failure of the entire ecosystem. One of the areas which require proficiency is- medical billing. With a shifting of trends, each medical billing company nowadays caters to certain medical branches. 
If you are a medical institution that wants to have a well-organized and coherent system, besides saving on the overhead costs, working with a renowned medical billing company is your best bet.
Key benefits of hiring a medical billing agency explained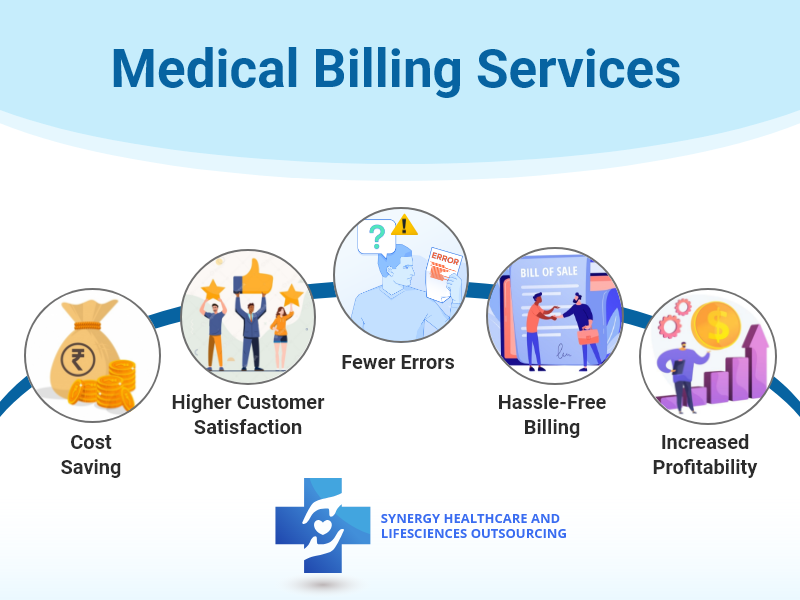 1. Cuts down on the costs
Outsourcing any kind of service helps in cutting down your costs by a great deal. Outsourcing medical billing services help you do the same. Any medical institution no matter how big or small can save a good deal of money that would have otherwise been spent on the salary, training, and benefits of their employees working in the medical billing department.

Therefore, to put it in simple words the expenses of the hospital switch from a fixed cost to a variable departmental cost that remains contingent on the financial gain. Another benefit that comes with it, is the fact that the medical institution does not have to put money into any types of equipment and supplies. 
2. Guarantees good customer satisfaction
Outsourcing medical billing allows hospitals to focus on their patients and give them the treatment they need while leaving the billing to proficient individuals. Healthcare institutes want to gain a bigger amount of profit and they can easily do that without remaining heavily involved in the entire business operation. This allows hospitals to focus on giving treatments to patients specific to their needs.

The medical billing company on the other hand makes sure that each of the transactions gets quickly refunded without any hassle and also detects errors if there are any. Medical billing services make sure for an overall enhanced customer experience. 

3. Ensures billing adherence
Well-known medical billing companies make sure to operate in a manner that adheres to the rules and regulations in a proper manner. When it comes to their procedures, they also make sure to include all of the external and internal audits for complete transparency. Complying with all of the government mandates is no easy task because if any of the medical institutes fail to abide by the rules while operating, they could very much miss out on remuneration. Medical billing companies are always aware of all the rules and regulations along with the changes that come along with them.
Any medical billing company has adroit and well-trained individuals who are skilled in the area of medical billing who work in a manner that leads to significantly fewer errors. The scrupulous training that these individuals have to go through makes them quite meticulous leading to precise and higher quality work. They are cautious while analyzing each of the claims before forwarding it to the concerned organization leading to a lesser number of refused claims.
5. Medical institutes can focus completely on providing accurate treatment
For healthcare institutes to grow they need to regularly provide the best treatment to their patients, which will lead to the formation of a faithful client base. But if they sway between providing healthcare and looking after tasks such as medical billing and coding services it will not allow them to grow. Successful practice along with a strong client base is the sign of a good healthcare institute that focus solely on their patients and the services they provide. 

6. Increased confidentiality
With the age of the internet, there is no denying that cybersecurity crimes have also become quite frequent these days. Companies are insistent about safeguarding any sensitive information about their clients which could get into the wrong hands. A dedicated IT department deals with the records of hospital staff while a medical billing agency can look after the records of the patients. They follow each of the rules required in safeguarding the client's privacy.
7. A greater amount of cash flow
If you are thinking about hiring medical billing services for small practices, you should definitely act on that thought. Not only does it help in making the billing process smoother but also helps in making the claims go through faster. Patients might from time to time forget about making the payments on time, billing companies help in sending them reminders which leads to a constant cash flow.
What Is the average charge for Medical Billing Services?
Medical billing services have a varying fee depending on the kind of healthcare practice that they are practicing business with. Some medical practices are quite intricate and demand more time than the other ones. For instance, a neurologist can only see a few patients each day. But the process of medical coding is complicated along the claims that are issued have high numbers. For this time-consuming work, even the best medical billing services charge a high percentage of revenue.

If you were to look at the percentage-based outline to understand the average charge for medical billing services, it is always based upon a percentage of the income from the healthcare institute.

When it comes to smaller healthcare institutions charging hourly fees is a better option. Therefore, an outsourced billing service would charge hourly fees. Service codes for medical billing charges on each of the filed insurance claims. This arrangement is convenient for those who only submit claims and do not have a dedicated in-house team to handle all of the insurance claims. Well, that's all about the key advantages of hiring a medical billing firm and how much these companies charge on an average.
In case you are planning to hire a medical billing company, Synergy HCLS can be an excellent option to consider. They are not just reliable but quite experienced too!